Welcome to beatbike!

 We hope our website encourages you to make the next step and join our friendly community of people who enjoy being bikefit, on indoor bikes and on the road.  beatbikers come from all levels of experience and fitness; our club can get you started or give your cycling performance the edge you have been looking for.  We look forward to welcoming you in person, but in the meantime here is our story of how beatbike came to be. Thank you for your interest. Vix & Sian
Two St Albans' neighbours, Sian Brice and Victoria Robertson, discovered by chance that they had a mutual passion for cycling and founded beatbike in the spring of 2012.
Although Victoria and Sian come from very different cycling backgrounds; Sian having competed since early childhood right through to leading Team GB Triathlon team at the Sydney Olympics; Victoria having bought her first road bike only a few years previous; they share a vision of a new kind of  cycling studio in the UK.  One that could inspire novices to discover the thrill and health benefits of group cycling and also challenge experienced athletes to take their fitness to a new level.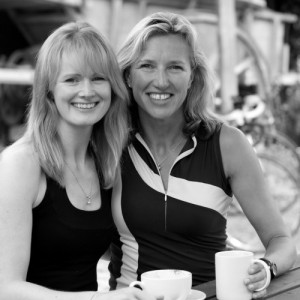 "Indoor cycling has been around for a long time in the UK, but it took living in New York City for me to discover what a life-changing sport cycling can be," explains Victoria.
"The New York indoor cycling experience was totally different to any fitness class I had done before. The instructors were world-class coaches; the music was the stuff top dj's dream about; and the atmosphere was inclusive – each rider was inspired to encourage the other, regardless of ability or fitness level.  Plus I could decide how much I wanted to spend per month by only having to pay per class."
When Victoria moved back to the UK, she bought her first road bike as a way to channel her new found bike fitness. "I was honestly bereft that I had to give up a fitness class that truly worked for me.  If I couldn't live in NYC anymore then why not create something new here in the UK?"
Victoria met Sian by chance at a popular local cycling rest stop and it soon became clear that this kind of dynamic approach to indoor cycling went hand in hand with Sian's Olympic background.
"I love the feeling cycling gives you both in body & mind and with decades of coaching experience in my back pocket, I can share this with everyone. The Olympics sounds so intimidating but it's the same as any challenge – you just have to be brave and give it your best shot," says Sian.
"For me, cycling is the best all round form of exercise for cardiovascular, weight control and tone. It's extremely time efficient in our busy lives and, with great music and instructing, it is so easy to get in the zone and reap the benefits."
Sian is passionate that cycling is not just for Olympians: "Cycling is quite unique in that it is for all shapes, sizes and fitness levels; adaptable to the individual whatever their starting point." She explains, "I can relate to someone trying to keep in shape whilst juggling a busy family life AND to an experienced roadie who is looking for that final edge to take their training to the next level."
All this talk of New York City and The Olympics might give you the impression beatbike is a rather lofty enterprise, but the reality is rather different.  From day one, it will keep its feet firmly on the ground and at the heart of grassroots sport within the local community.  Our first pop- up studio was located in the Cricket Pavilion in Clarence Park St Albans, where we enjoyed being part of the strong sporting community of St Albans Cricket and Hockey clubs.  Sadly, circumstances prevented us from continuing indoor classes at that venue and we are now actively seeking a new location for a permanent studio for our indoor classes.  In the meantime, Beatbike is very proud to run its indoor classes in Fitness First St Albans' state of the art Spinning Studio.
Go on…be brave…get that bike out of the garage and join us on our fun, safe, cycling dedicated club.