New to Indoor Cycling?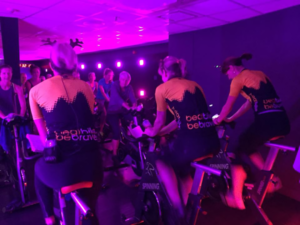 We know some new riders can be intimidated by indoor cycling. You may think it is too hard or fast for you.
The opposite is true. Indoor cycling is perfect for all ages and abilities as it can be adapted to suit each individual rider. You are in charge of your workout. You
control your speed & resistance to give the perfect work out, whatever your level of fitness – your ride, your way.
It is also great fun. You will be part of a supportive pack of riders, all working out to brilliant music. It will be easy to feel energised and motivated. You'll get fitter & feel fantastic!
We really welcome new riders. Cycling has inspired us and we would love you to be too.
We will be there to help, coach & support you through every pedal stoke. Your coach will ensure you are comfortable from the moment you get on the bike and will set realistic challenges for you throughout your ride.
You are welcome to any workout, as we always give 'new rider' options in every class.
Come early to your first class; your coach will expect you and will take time to learn about your fitness goals, help you to get the perfect bike set up, and make sure you are comfortable and ready to go. Then all you will have to do is relax, pedal and enjoy! You will soon see and feel the benefits.
Still have questions?
learn how to get started.
Check out our FAQs.
Email us at info@beatbike.co.uk if you have any other questions, we will be happy to hear from you.
beatbike. be brave.
[subscribe2]